Top 5 ways for a backpacker to spend a day in Hobart Tasmania
Hobart is one of Australia's most awesome small cities. Often compared to European locations, Hobart has a beautiful location in between Mount Wellington & the Derwent River. After Sydney it's the oldest city in the country, but unlike Sydney all the heritage buildings haven't been bulldozed for skyscrapers, so it's very pretty! You should give yourself at least a few days to explore this compact capital, but if you have just one, here's what you should do:
Get the ferry and go explore MONA
MONA is super hard to explain, but basically it's the result of an eccentric gambling millionaire spending $100 million on his very, very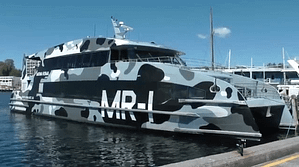 unusual art collection, then about another $100 million on an enormous subterranean lair to house said collection. Because it's entirely privately funded, he has not given a single f*ck what the government, voters or religious groups think and has unashamedly given it a sex and death theme. The collection changes regularly and there is a ferry (the MONA ROMA, shown left) which looks like some crazy high speed military assault vessel to get you from the Hobart Waterfront at Brook Street Pier to the museum upriver. Don't miss this – Sydney & Melbourne visitors regularly fly down for the day just to go to MONA and as soon as it opened in 2011 it became Tasmania's most visited attraction.
Salamanca Market
Salamanca Market is a Saturday institution in Hobart. One day a week, since 1972, this beautiful waterfront boulevard is closed to cars and becomes a huge open air market, selling Tasmanian made food, wine, crafts and much more, with street performers and a carnival atmosphere. Back in the 70s the old sandstone warehouses on Salamanca were mostly derelict, having been superseded in the shipping trade by the large Princes Wharf 1 & 2 sheds and Elizabeth Street Pier. The state government granted a few of the warehouses to the Salamanca Arts Centre and it was all up from there. Nowadays it's prime real estate and Hobart's main entertainment district, with bars, pubs, restaurants, cafes and nightclubs meaning there's something for everyone.
Mount Wellington
The 1270m mountain looms over the top of Hobart, where locals simply refer to it as "The Mountain". There's a few ways to take in the epic views from the top, depending on how much money you want to spend. The cheapest way is to get the local Metro bus to the end of the line at Ferntree, about halfway up and walk the rest. This option costs all of about $3.50 and a bit of exertion as you walk to the top. Alternatively there is a shuttle bus all the way to the top from the Hobart Visitor Information Centre which costs about $25. A cable car has been proposed by many different parties over the year but don't hold your breath for that one!
Bruny Island
Bruny is absolutely gorgeous, it's as simple as that. About the size of Singapore, instead of 5 million residents it only has about 500! Some of them are white wallabies too – a rare variation on the Bennett's Wallabies found elsewhere in Tasmania, who have made their home on Bruny.
Bruny has spectacular sea cliffs, dramatic views from the Cape Bruny lighthouse, great cruises and great cheese. No visit to Hobart is complete without seeing it – check out our Bruny Island Day Tour for the best and most affordable way to see it!
Micro brewerie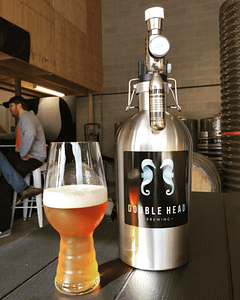 s
Hobart is home to a thriving craft beer scene, so if you're a fan of the amber liquid, give yourself a little extra time before your flight to check out newly opened Double Head Brewing or Last Rites near Hobart Airport at Cambridge, wander down to the waterfront to Hobart Brewing Company or walk up Elizabeth Street to Shambles.