So you want to tour Tasmania – but which tour is right for you?
If you want to tour Tasmania there are a lot of options out there! Which one is best for you depends on three things. How much time you have in Tasmania (one week is the minimum to get a great experience). What kind of person you are (how old you are, travelling solo/couple/group, how adventurous you are). Finally, how much money you are prepared to spend.
TIME
SOOOO many people have made the mistake of trying to see Tasmania in only 3 or 4 days – it's impossible! You're visiting one of the world's most beautiful islands – take your time! If you REALLY can't spare the time, just visit one area. Try the east coast, or stay in Hobart and visit Bruny Island & Port Arthur.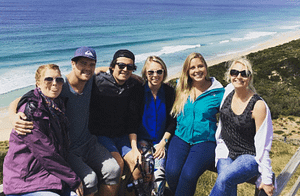 In the 10 years we've been operating, many people have said they wish they had more time to tour Tasmania – never less! Once here you will realise that although Tasmania looks small compared to the rest of Australia, it isn't. Think the size of Scotland, twice as big as Taiwan. Drive 45 minutes in Tasmania and you'll be in a completely different area, as beautiful if not more than the last place you were in! Give yourself plenty of time – 2 weeks preferably, but at least 1. If you have one week and want to see as much as possible, check out the Best of Tasmania tour.
YOU
Next up – who are you? Are you a backpacker on a gap year, or a 30 something on a career break? Maybe a couple on their honeymoon or a family with kids? Your answer to this question will inform how you travel. If you're travelling alone,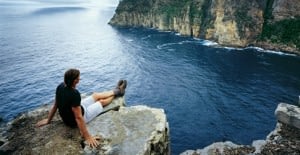 definitely take a tour of Tasmania. Hiring a car is boring by yourself. Tasmania's twisting roads and lack of signage means too much time navigating and not enough time enjoying the great sights. Couples often like to tour Tasmania for the same reasons. A family with kids? Car hire is a great option. It gives you plenty of room and the ability to change plans as you need to.
THE FOLDING STUFF
Finally, how about the dollars? It's an important question, as there are a lot of options to tour Tasmania. You could spend $700 on a 1 day seafood experience out of Hobart, or get on an e bike adventure for a similar price. Other Tasmania tours let you see the whole state over 7 days for around $900, like our Best of Tasmania tour. That includes backpacker dorm style accommodation – great if you want to save money. If you want more privacy, upgrade to a private room. Often the price is an indication of who the tour is aimed at – more expensive usually means it's made for an older crowd. Others, like the great value Jump Tasmania Tours, are made for a younger, 18-35 crew.
THE END GAME
Different people like different stuff. If you love beaches, it's better to stick tour Tasmania with a focus on the east coast. That means Bay of Fires, Bicheno, Wineglass Bay and Bruny Island. Are waterfalls and mountains your thing? The west coast is the place for you! If the convict history of Tasmania is your bag, head to Richmond and Port Arthur.
Got any questions? Hit us up on live chat – look for the button in the bottom right of the page 🙂
Cheers from Greg & the Jump crew!